Orders to PCS to Hill Air Force Base? Real Estate near Hill AFB is widely available and typically quite affordable. If you are in search of homes near Hill AFB for sale, use our local knowledge and experience to find the perfect place to call home!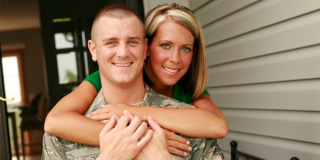 As the sixth largest and most important employer in Utah, Hill AFB is located in the northern side of the state, close to Odgen and Clearfield. The base was named in honor of Major Ployer Peter Hill of the U.S. Army Air Corps, who died test-flying a prototype of the B-17 Flying Fortress bomber.
Have you ever moved somewhere and felt like an outsider? You won't feel that way here. The Hill AFB locale is largely made up of military, DOD civilians, defense contractors, veterans, descendants of veterans and their families. Many of the people are highly patriotic and they proudly support our military and their families. Whether you are Army, Navy, Air Force or Marine you will fit in well in our community. Let GotUtah.com show you the local options for Hill Air Force Base real estate available to you and your family, so that your next military relocation can be your most pleasant!
For 2014 military buyers currently stationed, or PCSing to Hill AFB--the 2014 (BAH) rates for Hill AFB increased an average of 5%, (up to $80 per month). This means military members now have more tax-free money in each pay check to help with housing costs. This is great news for military members who want to make the best use of this benefit by purchasing a home rather than utilize the BAH to pay for on base housing, or rent.
BAH is tax free money provided to service members based on rank, dependent status, and location. For example, a TSgt (E-6) with dependents at Hill AFB will receive $1263 tax-free dollars per month to offset the cost of housing. Based on an interest rate of 4.5%, this can equate to a $200,000 home purchase.
The biggest financial advantage to purchasing a home is the tax breaks associated with home ownership. The taxes and interest are tax deductible each year you own your home. And what happens if you PCS again? As we know, the reality is most military members do not stay in the same location, but that does not mean they can't, or shouldn't purchase a home. In fact, if you decide to keep your home as a rental when you leave, you can deduct repairs and other expenses each year while someone else is paying your mortgage payment for you.
Eligible Military members can purchase a home with zero down using a VA loan and enjoy all of the tax breaks associated with home ownership using TAX FREE money. Please don't hesitate to call us today, we would be honored to treat your family and friends like our family and friends.